Welcome to Salome Elementary School District
Salome Consolidated Elementary School District is located in Salome, Arizona, about 60 miles west of Wickenburg and 100 miles northwest of Phoenix. Our rural community provides ample support for our school, while our educational system offers all-day kindergarten, state-of-the-art technology, and highly qualified faculty. We know you'll love it here at Salome, so stick around and find out more about our school district. We look forward to meeting you!
A Special Message from Our Superintendent
Dear Salome Elementary School Families,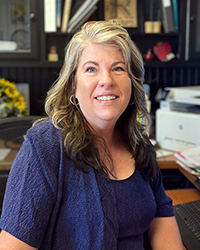 Welcome to the 2022–2023 school year! I am thrilled to welcome our students and staff back to school. I want to give a big thank you to everyone who was involved with our June summer school. It was a successful program, and we were able to see some good growth and exciting program opportunities for our students. We hope that you were able to relax and make special memories with your friends and families. Now it is time to look forward to a wonderful new school year! We are excited to welcome Ms. Isabel Kennedy and Jennifer Walton who will be joining our amazing teaching staff. Salome Elementary is such a special place to learn and grow, and we have high expectations for each and every student. Instruction will focus on specialized skills and content needed to learn grade-level materials while providing the appropriate tools needed to grasp concepts. Work will be modified or challenged, depending on the needs of the student tied closely with data results. Together with our dedicated staff, we will strive to help your child succeed at their fullest potential.
I would like to encourage families to stay connected through Class Dojo, our district website, and our school Facebook page for important information and updates. We will also be including our school newsletter with pictures and descriptions of school events as they happen throughout the year. The staff and I look forward to welcoming you on the first day of school on Monday, August 1 and at our open house on August 10 from 5:00 to 6:00 p.m. Please be sure to return the lunch and breakfast program application that each family received. This is a national requirement to determine eligibility for free, reduced, or full-pay breakfast and lunch. Those that have completed the applications will have a chance to receive a Generation 7 iPad.
I wish everyone a year filled with academic achievement and many fun, memorable experiences. It continues to be an honor to serve as your principal, and I look forward to an amazing 2022–2023 school year. Please feel free to stop by, call, or email me with any questions or concerns throughout the year.